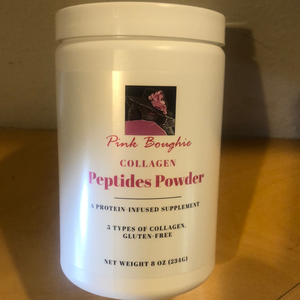 Collagen is a structural protein that influences multiple systems in our bodies including our skin, hair, gastrointestinal tract, joints bones, and muscular tissue. 
Some of the benefits are

Premature signs of aging (wrinkles)

Issues with weight loss

Problems with your gastrointestinal tract including IBS, constipation, diarrhea, gas/bloating, acid reflux

Joint pain or arthritic pain

Hair loss, hair breakage, or changes to your hair volume

Skin changes ranging from acne, sensitive skin, rashes, or dry skin

Inflammation is the body (or a history of autoimmune disease)
Collagen can boost metabolism by increasing lean muscle mass. When combined with exercise, taking collagen helps increase skeletal muscle resulting in an increased metabolism over time.​
Improves Skin
The amount of collagen and elastin proteins in our skin diminish over time causing the skin to sag and lose plumpness. Collagen peptides improve the layer of the skin called the dermis which will help to improve the appearance of the skin.
Every scoop of Pink Boughie Collagen is designed to beautify your well-being, promoting healthy:
Skin (hello fountain of youth)

Hair (shine on)

Nails (worth flaunting)

Joints (give your yoga instructor a run for their money)

Teeth (selfie-ready 24/7)

Gut (happy belly)

Bones & Muscles (flex on 'em)

Oh, and we can't forget to mention, our Collagen Peptides are easily dissolvable and provide an *extra* boost of satiating protein (keeping you fuller, longer), especially when taken first thing in the morning.