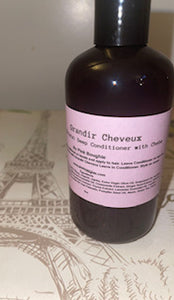 Grandir Cheveux  (Pronounced grandeer shavoh) which means - growing hair in French, is a carefully formulated blend of ancient herbs, vitamins and 17 powerful plants.  Absolutely 100% pure and natural
Grandir Cheveux Deep conditioner


Formulated with Green Tea and Vitamin E and Chebe
Benefits:
Chebe reconstructs and strengthen the bond and shaft of the hair, and help it retain length
Green tea also is responsible for cleaning the scalp and balancing the pH level of your scalp.
This antioxidant cleans and nourishes your scalp and prevents your hair from drying, bacteria and sun damage
.
Leaves the hair healthy and shiny

Ingredients:
Chebe, Camellia sinensis, (Green Tea) Salvia Rosmarinus,, Aloe barbadensis miller, Lavender, Organic Hemp, Neem and Stinging Nettle and other natural ingredients 



How to use After Washing, Apply ample conditioner in hands and apply to hair. Leave Conditioner on the hair for 20 minutes. Rinse out and apply Grandir Cheveux Leave on conditioner. Style as usual.

Be sure to do a 24 hour patch test as well to ensure there are no allergies