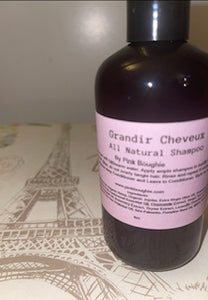 Grandir Cheveux  (Pronounced grandeer shavoh) which means - growing hair in French, is a carefully formulated blend of ancient herbs, vitamins and 17 powerful plants.  Absolutely 100% pure and natural
Grandir Cheveux Shampoo


Formulated with Green Tea and Vitamin E and Lavender, Organic Hemp, Neem and Stinging Nettle,
It hydrates moisturizes and protects your hair and scalp.
Benefits:
Green tea also is responsible for cleaning the scalp and balancing the pH level of your scalp.
This antioxidant cleans and nourishes your scalp and prevents your hair from drying, bacteria and sun damage
.
Leaves the hair healthy and shiny

Ingredients:

Aloe Vera Juice, Cocomidopropyl Betaine, Decyl Glucoside, Sodium Lauroyl Lactylate, dl-Panthenol (Vitamin B), Polyquart 10, Kosher Vegetable Glycerin, Ethylhexylglycerin & Phenoxyethanol, Rice bran Oil (Rich in Vitamin), Organic Sunflower Oil, Organic Hemp, Organic Jojoba, Extra Virgin Olive Oil, Grapeseed Oil, Soybean Oil (NON-GMO), d'Alpha Vitamin E Oil, Cedarwood Essential Oil, Chamomile Extract, Ginger Root Extract, Stinging Nettle Extract, Rosemary Essential Oil, Rosemary Extract, Thyme Extract, Lavender Essential Oil,  Lecithin, Peppermint Essential Oil, Tea Tree Essential Oil, Saw Palmetto, Pumpkin Seed Oil, Neem Oil.  
How to use 

 Step 1: Wet your hair properly and rinse out the dirt and impurities.
Step 2: Generously apply this shampoo all over your scalp and hair and massage it in using your fingertips.
Step 3: Leave it on for 2 to 4 minutes.
Step 4: Rinse off thoroughly under running water so that no residue remains. Use this shampoo twice a week for the best results.
Apple Grandir Cheveux Leave in Conditioner and Style  as normal

Be sure to do a 24 hour patch test as well to ensure there are no allergies