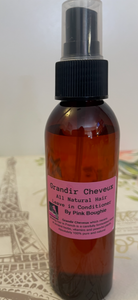 Grandir Cheveux  (Pronounced grandeer shavoh) which means - growing hair in French, is a carefully formulated blend of ancient herbs, vitamins and 17 powerful plants.  Absolutely 100% pure and natural
Grandir Cheveux
Leave-In Conditioner And Hair Detangler

Formulated with Green Tea and Vitamin E
It hydrates moisturizes and protects your hair and scalp.
Benefits:
Contains antioxidants
Panthenol helps soften and strengthen hair follicles while also preventing and reducing split ends
The amino acids helps strengthen hair follicles and repair the cuticles, which helps reduce frizz and add shine to the hair.
Hair follicles can absorb the caffeine present in green tea
Nourishes your scalp and boost hair growth
Protects the scalp from dandruff, microbial infections. flaking and sun damage
Reduces Breakage 
Leaves the hair healthy and shiny

Ingredients:
Camellia sinensis, (Green Tea) Salvia Rosmarinus,, Aloe barbadensis miller, Vitamin E, Lavandula angustifolia

How To Use
Shake before use 
After washing your hair , Spray on to damp hair for best results. 

Be sure to do a 24 hour patch test as well to ensure there are no allergies